International Steamers and Dreamers Convention, Manakau Live Steamers, January 2008
We decided in August 2007 to attend the International Live Steam Convention in Manukau, and registered in time to enjoy the benefits of the Early Bird Specials. Mike prepared the loco, DG760, by replacing or checking all the bits that inevitably cause problems, such as spark plugs, hoses, and air filters to ensure everything operated smoothly.
Photo Album
View a photo album of photos of Convention 2008 on Flickr.
Arrival
After organising an itinerary, and accommodation with Dale's family, we were off on a 3 week holiday – just the two of us - leaving Wellington a week early.
We arrived at the Convention on opening day, Thursday morning, and quickly unloaded the loco, and within half an hour we were on the track testing it out.
The weather was fine and warm, and after registering, we spent time exploring the venue, getting to know everyone, and viewing the exhibits.
The next five days were amazing, with thousands of people visiting the park to view and ride on the trains. There were hundreds of wide-eyed excited little boys (and girls) pointing, smiling, and enjoying rides on the 60-odd various steam, diesel and electric locos at the Convention. There were also plenty of dads and granddads who came along to enjoy the sights, reminiesce about the "good ol' days" when they used to drive or ride on real steam engines, and who were keen to chat about their experiences. There were huge crowds each day.
During the Convention, DG760 and its carriage 787, and the two additional carriages, hauled over 1100 paying passengers around the picturesque Hill and Prairie Tracks at Manukau.
At the Convention Dinner on the Sunday night, DG760 was awarded the Best 7 1/4" Diesel Locomotive, which was a great surprise and honour, as you can see from Mike's reaction in the photo below.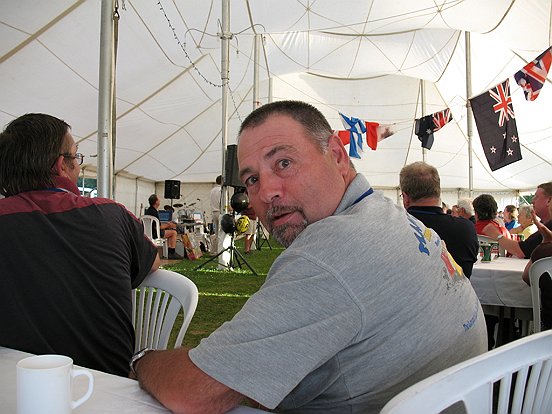 We really enjoyed 5 days of driving and riding our loco, and other locos, and meeting and talking to owners and drivers from all over New Zealand and our international guests at the Convention.
After the convention, we took the loco to Keirunga Park in Havelock North (pictured below), and then to the Squirrel Valley private Railway in Cambridge to enjoy with the Convention Ramble participants.