DG760 has run on a number of public and private tracks in the North Island. A purpose-built trailer is used to transport the locomotive and carriage, which weighs nearly half a ton.
Public Tracks
Havelock North
Petone
Palmerston North
Kapiti
Maidstone
Manukau
Private Tracks
Mana Ariki, Taumarunui
Ngahape, east of Masterton
Squirrel Valley, Cambridge
Havelock North Live Steamers
Location
Keirunga Park, Pufflet Road, Havelock North
Track
The track is 846 metres (just over half a mile) long and caters for 3.5", 5" and 7.25" gauges. Traversing the hilly topography of the park demands a ruling gradient of 1 in 100 uphill and 1 in 50 downhill. The ruling curve radius is 43 feet. The single track main line crosses four high viaducts - a curved wooden trestle, a steel arch and two concrete structures as well as passing through three tunnels.
DG760 can pull up to 6 carriages with 25 people in total at Keirunga.
Opening hours
1st and 3rd Sunday (weather permitting), 11 am and 4 pm, plus Easter and Labour Weekends.
Website
Visit Keirunga Park Website for stories, photos and profiles.
Hutt Valley Model Engineers
Location
Hikoikoi Reserve, Seaview, on Petone foreshore, behind the Mobil Service station.
Track
Seaview's track is a 350 metre oval track, with two station tracks and a straight through track, and a separate loop for loading. It also has reverse sidings to access easy storage in the shed.
Opening hours
Every Sunday afternoon, 1.00-4.00 pm (weather permitting).
Website
Hutt Valley Model Engineers Society Inc
Maidstone
Location
Maidstone Park, Upper Hutt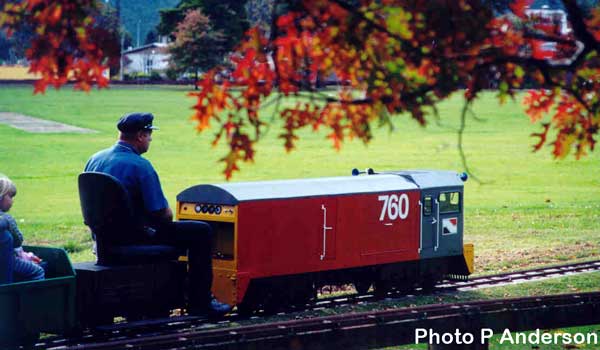 Track
A single track around the park.
Opening hours
1st and 3rd Sunday of each month, 1 pm to 4 pm.
Palmerston North
Location
Marriner Reserve, Palmerston North
Track
A double loop track with a bridge crossover, around the Marriner Reserve.
Opening hours
1st and 3rd Sunday of each month, 1 pm to 4 pm Summer, and 1 pm to 3 pm Winter.
Website
Palmerston North Model Engineers Society
Kapiti Live Steamers, Raumati Beach
Location
Marine Gardens, renamed Raumati Junction, Raumati Beach
Track
A track which goes around the gardens, through cuttings, over bridges and through tunnels.
Opening Hours
Every Sunday, midday to 4.30 pm.
Website
Location
Centre Park, Robertsons Road, Manukau City
Track
The Manukau Live Steamers Track starts at the Massey Junction station. The Prairie track is 1200 metres and follows the edge of a large playing field. The Hill track is 850 metres long with uphill grades of 1.5% and a 90 metre curved tunnel. The tunnel has light signals at the entrance with a track sensor about 3 metres before the tunnel.
Mana Ariki Marae, Taumarunui
Location
9 km north of Taumarunui
Track
Largest privately owned railway in the Southern Hemisphere. Inspired by Mr Alexander Phillips CBE QSM, Paramount Chief of King Country, Whanganui and Taranaki. Mr Phillips was a railwayman all his life and spent most of the time working on the railways and in the bush in the area. This 7.25 inch gauge track is 3.5 kilometres long, winding its way up the Mana Ariki Valley, over two viaducts, one bridge, three tunnels, a cross-over, a roundhouse engine shed, and two stations. It also has three crossing loops and a short version figure 8 track which was the original track built before the extension up the valley. The track is open once a year in March for visiting locos and drivers by invitation only.
Ngahape Valley Railway
Location
40 mins east of Masterton. Owned privately by Ken Evans.
Track
This track encircles the property, going down an embankment, over a dry streambed, and back around in front of the old schoolhouse playground area. Visitors by invitation only.
Squirrel Valley Railway
Location
SH1 1 min North of Cambridge. Owned privately by Grant and Donna Alexander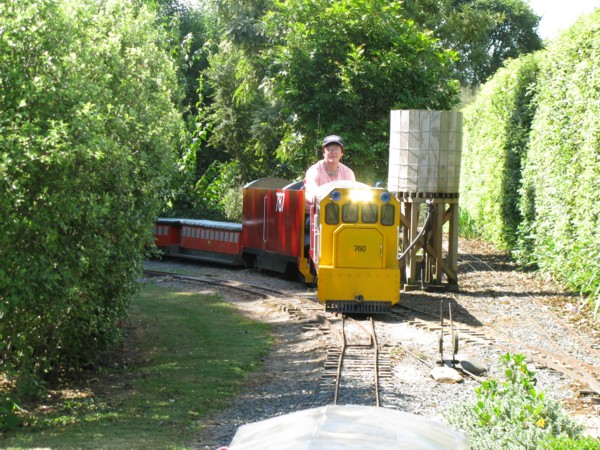 Track
This private railway boasts a mainline of over 300 metres, along with about 140 metres in storage sidings, yard and steam-up area, Y and passing loop. There is one tunnel of about 12 metres, and a bridge just over 4 metres in length over a lake stocked with small fish. The railway is about having fun and so continuous in basic plan, but also there is a lot of room for "operation" as the layout incorporates ten sets of points thus giving a number of "destinations" and reverse routes. The maximum gradient is about 1:60 and there are about 27 track metres of covered storage for the safe storage of visiting rolling stock.
Loading facilities are two-fold with a simple 2.5 metre link-span for the lighter locos to load/unload direct into the covered storage tracks, and also a 50 metre long 1:25 earth ramp bringing the track up to trailer height directly from the mainline.
In attendance were international members of the Convention Ramble, who were visiting various tracks around the North Island, pictured below.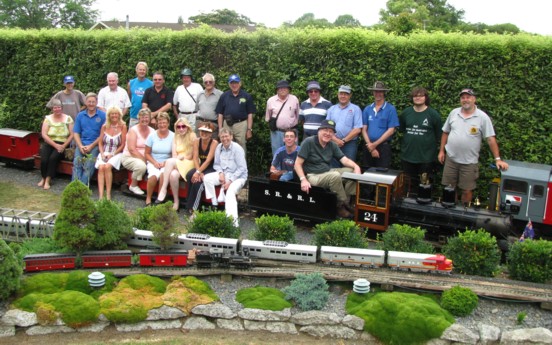 Also on the property is a reasonably extensive "G" scale garden railway.